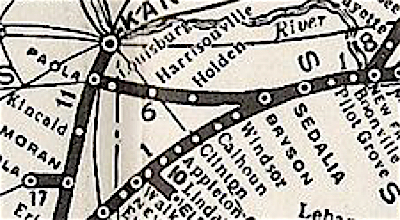 This is from the 1944 MKT System Map
Does anybody know anything about the track from Bryson, Missouri to Paola, KS?
This is from the history section of the
Sedalia Depot Web Site
:
Also in 1895, the MKT completed another new line from the St. Louis mainline at Bryson (north of Windsor) to the KC mainline at Paola, KS. This line was envisioned to serve as a through connector route for traffic between Kansas City and St. Louis, though its rather circuitous route made for long transit times and prevented the MKT from competing seriously in the trans-state rail market.
UPDATE!
Google is your friend. A few clicks into a search on the Google and I came up with TONS of info on the Osage Division of the MKT! (It was on the internets, so it
must
be true!)
This is from
AbandonedRails.com
:
The Osage Division of the Missouri, Kansas, and Texas (MK&T or Katy) Railroad began as a railroad known as the St. Louis and Santa Fe Railroad, Missouri Division which was incorporated on April 20th, 1869. Completed in 1871, the railroad was a single-track, standard gauge steam railroad that ran approximately 38 miles from Holden, Missouri (In Johnson County) to the Missouri/Kansas state line. As St. Louis and Santa Fe Railroad, Missouri Division quickly went bankrupt; the Katy Railroad officially completed purchased the charter on May 29th, 1872…
However, the connection to the mainline of the Katy did not ensure survival and the Osage Division (also known as the Holden & Paola line and possibly the Holden Division) closed in 1958. Today, the site of Bryson is marked by a sign on the Katy Trail with no mention of the Osage Division's existence. This portion of the Katy Railroad is not a part of the Katy Trail system in Missouri and was returned to the local residents, most of the railbird has been destroyed.
You gotta love the Google!
UPDATE #2!
I did a bit more research and ended up creating a page on this web site dedicated to the
Osage Division
.