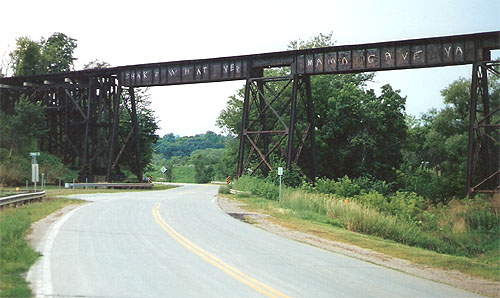 I grew up in the country west of Council Bluffs, Iowa. Our house was located off old Highway 6, and very near the old Rock Island line that ran from C.B. north to Avoca and on west to Des Moines and Chicago. The line was fairly active in the late-'60s, but traffic petered out in the '70s. The Rock was shut down in 1980.
In 1984 the old Rock Island line out of Council Bluffs became part of the Iowa Interstate (IAIS) Railroad. For years, it ran a couple freight trains a day on the old Rock Track, but these days traffic is increasing with the addition of intermodal (!) traffic on this old and historic track.
A distinctive landmark on the old Rock Island track was the single track bridge crossing Old Highway 6 (McPherson Ave) and Little Mosquito Creek, just west out of Council Bluffs. This deck plate girder bridge was built in 1901, and has a total length of 320 ft. The longest span is 70 ft.
I passed under that bridge a thousand times when I was growing up. When I was in junior high, a friend challenged me to climb up and walk across the bridge, but I was too afraid to do it. Somebody had been up there, though, because the most distinctive feature of the bridge was the graffiti on the west side of the bridge, saying "SHAKE WHAT YER MAMA GAVE YA" in shaky letters. Every time I walked, or jogged, or biked, or drove under that bridge I tried to imagine that tag artist leaning over the tracks, writing those letters upside down! Yikes!
Several years ago, my parents moved to a new house, up the hill with a great view of the Mosquito Creek valley, the Iowa Interstate tracks and the bridge. Whenever I visit, I listen for the sound of the trains crossing the bridge. It sees a lot of action these days as the IAIS traffic continues to grow.
Alas, the graffiti has been painted over as part of a bridge approach upgrade project in 2014. But I still adhere to the advice that tag artist gave me those many years ago, and "shake what my mama gave me" as often as I can!.
Here is a link to more information at
bridgehunter.com