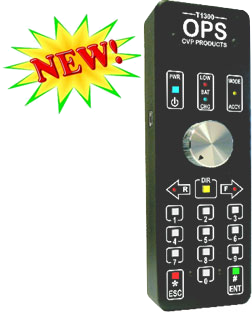 CVP Products recently came out with their new wireless throttles for EasyDCC, the T1300 "OPS".
I had seen a prototype of this throttle last summer at the National Train Show in Portland, and I was anxiously waiting for CVP to make them available. I ordered three of them the day they came out.
I love them. They approach my ideal throttle design…now if they could offer a center-off toggle for direction, I would be perfectly happy!
Here are some of the things I really like:
Rechargeable battery pack with micro USB charging port (no more changing batteries!)
The lithium ion battery provides 60+ hours of continuous operation between charges. So, if I operate once a month, and each op session is 3 hours long, then I'll need to recharge them every…1.7 years!? Nice!
No antenna. Nice!
Slim case design. Fits my hand better. Nice!
Contoured case with no sharpish metal/plastic interface. Nice!
Single turn, robust speed control knob…no more roundy roundy round.
You select the Throttle ID number by cutting traces, which initially sent a ripple of boos through the Yahoo EasyDCC users group. But I like the idea of "Cut once and forget it". No operator accidentally resetting the throttle number with the command keys. So I say bravo for that!
You still set the throttle frequency with internal DIP switches. You set the transmit mode (scan or burst mode) by cutting more traces.
There are a couple other features that are notable: You can't assign a throttle unless the speed knob is turned to off. And you loose assignment if the throttle is turned off. Both of these are fine features.
All in all, I'm loving the new throttles. The only question is: When can I order more?!
Read More…