Parsons Yard is coming ALIVE!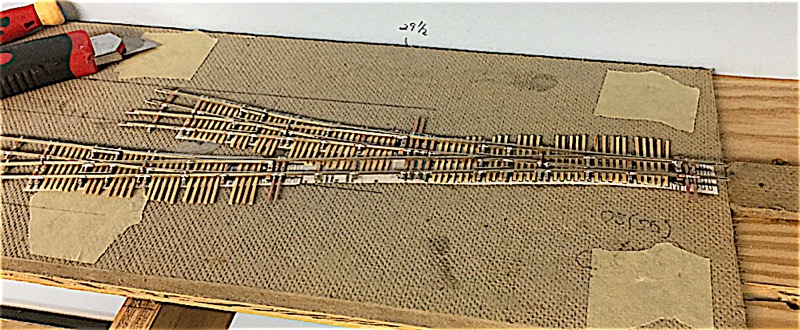 The Parsons Staging Yard ladder on Joe's Burlington Northern, Marais Division
It's TRUE! Parsons Yard will soon be operational, and filled with lusty semi-sweet green locomotives pulling manly freight and pig trains.
Not on the Mighty MKT, but on the next best thing - my buddy Joe's awesome and massive Burlington Northern Marais Division. I'd prefer to call it the "Missouri-Kansas-Texas, Kansas City Subdivision (with a few BN trains, too)", but Joe says no. I'll keep working on him about that name.
Joe models the Burlington Northern, circa 1987, and has included the MKT junction at Paola, Kansas. Katy trains come onto the Marais Division at Paola and run into Kansas City. Most MKT trains will terminate at Glen Park Yard (south of Joe's big Murray Yard), but one train, the Houston Chicago Express (the HCX or "the Bull") will continue on into a staging track located near 10th Street. This hot train would typically be handed off to the CNW at Kansas City and proceed on to Chicago.
Today, Joe built the 4-track Parsons Staging Yard, installing his amazing Kasper MK VII, Rev 2 turnouts. The turnouts will be tortimus powered and driven by a Kasper Version 4 Diodifier™ matrix actuator with the optional LED visual indicatifiers, Joe is truly an Elite Track Layer™
Joe is also working on the design of Glen Park, and it's like trying to stuff 10 lb of potatoes into a 5 lb bag. Soon, lovely sight of Katy locomotives growling up the hill at Paola will accompany the ejaculation of excellence that is the BN Marais Division.